The following post recycles Richard Elwes's lovely blog post and this MathOverflow answer. It is dedicated to the memory of the greatest knot-shaker I have met, Kumar Pallana (1918-2013).
Yesterday I received correspondence from a certain Kenneth A. Perko Jr., whose name perhaps you have heard before. Its contents are too delicious not to share- knot theory's favourite urban legend is completely false!
---
Myth:
Ken Perko, a New York lawyer with no formal mathematical training, was having a slow day at the office. Bored and in-between troublesome clients, he toyed with a long piece of rope, which he had tangled up to represent knot
in Rolfsen's table (Rolfsen, like
Kuga
, was popular among non-mathematicians at the time). As Perko played with it, the knotted rope began to change before his eyes, and glancing back at the book, he suddenly realized that what he was holding in his hands was the
! Was it magic? Ken Perko shook the rope, and did it again. Sure enough, the
and
were the same knot!
Excited, Ken Perko shot off a paper to PAMS, containing only a title and a list of figures demonstrating an ambient isotopy. His paper entered the Guiness Book of World Records as the "shortest mathematics paper of all time", and Ken Perko obtained immortality.
This is the Perko pair: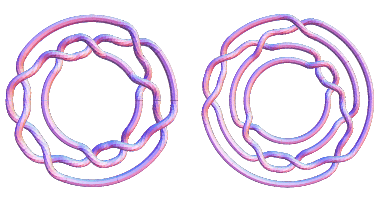 ---
What a story! The human drama, the "math for the masses" aspect that a complete amateur could make a massive mathematical discovery by playing with some string, the beautiful magenta pair of knots, the importance of attention to detail and using all your senses (not just your head)! What a shame that virtually everything written above turns out to be false! (more…)